It has been 4 years since I first started running my I Am Gifted!™ school holiday programme for Children and Teens in Indonesia and I am happy and proud to report that it has been a huge success! What our Indonesian students have achieved is way beyond my expectations. I am so proud of them.
After my 'IAG Junior', 'IAG Senior' and 'IAG Foundation' programmes became the leading personal development and learning skills in Singapore, I was invited to bring this life-changing programme to Jakarta in 2006. My partner, Susan Hartawan told me that the children and teenagers in Indonesia would greatly benefit from my teachings of whole brain learning techniques, personal mastery and leaderships skills. Many youths aspire to win scholarships to top universities but lack the motivation and learning skills to bring out the best in themselves.
At that time, I had my apprehensions. I was not sure if I could replicate the same success in Indonesia. After all, the students there may learn different subjects, have different beliefs/values and have very different problems. Of course, the big obstacle was language. Most students are taught in Bahasa Indonesia and my camp was in English. Nevertheless, I decided to give it my very best!
When I conducted my very first camp, I was pleasantly surprised and very impressed with the response from the Indonesian students. They were so enthusiastic to learn and very driven to succeed. Although English was their second language, they did their best to understand what I was teaching and asked questions enthusiastically. They were really hungry to learn these new skills and to achieve their dreams.
After training them, I realized that students all over the world share the same challenges. They too, like Singaporean students, faced the same obstacles in achieving good grades:
a) Laziness and lack of motivation
b) Cannot concentrate and lack of focus
c) Poor memory
d) Inability to manage their time
e) Poor study habits
d) Difficulty in applying what is learnt in answering questions etc…
The Secret of Turning Underachievers into Top Students
Many people ask me how I am able to empower lazy, underachieving teens into highly motivated top students. Well, the first thing I tell people is that I do not change students' mindsets and behaviours. They are the ones who change themselves. I do not give them any special powers. They already possess the great potential within themselves. I merely show them how to unlock their potential.
What I do is to open their minds to new ways of thinking and equip them with effective learning strategies that allow them to make learning easy and fun. I help them to develop within themselves a high level of self-esteem, empowering beliefs and a compelling set of goals for their future.
Empowering 5,600 Indonesian Youths in 4 Years
After 4 years of starting our Holiday Program Indonesia, I am very happy to report that we have trained over 5,600 students in Jakarta, Surabaya, Medan, Solo, Semarang and Bandung. The results that our students have produced have been truly inspiring. Not only have they improved their grades after the IAG camps, many of them have gone on to win sports competitions, ASEAN scholarships and scholarships to top schools in Singapore like ACS (independent), Nanyang Girls High and Hwa Chong Institute.
Here is little tribute I have put up for some of my students who I am truly proud of.
An inspiring example is that of Matthew Hartanto. This is his testimonial.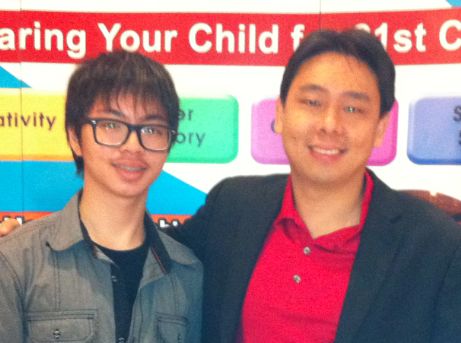 My name is Matthew and I am 15 years old this year. I joined the SuperKids programme on December 2007 when I am still 12 years old. Before I join the programme, I have no self-esteem at all, even talking to stranger. I do not know how to manage my time so I would just spend them on things that i thought would bring me fun.  Learning would just be done when exams are coming near.

After the programme, I felt myself with a higher self-esteem and now talking in front of the public was not a matter anymore. I know how to succeed not only in school, but also in my life. And now, i was able to achieve  the 2nd rank for UN examination for my whole school camp, always in top 5 in my secondary  and get a school-based scholarship to Anglo Chinese School Independent (ACS) for 4 years.
Besides Matthew, I would also like to honour some of my other students who have achieved significant success after attending the 'I Am Gifted!' Camp.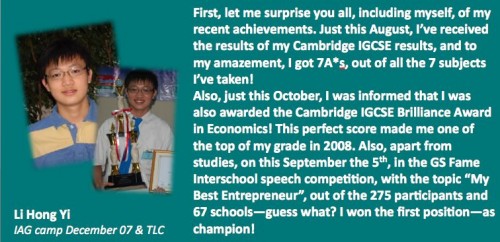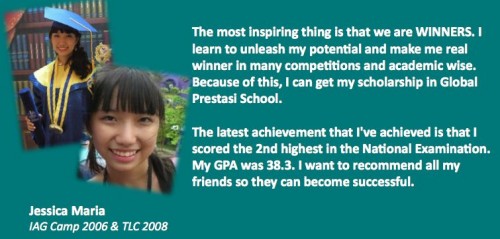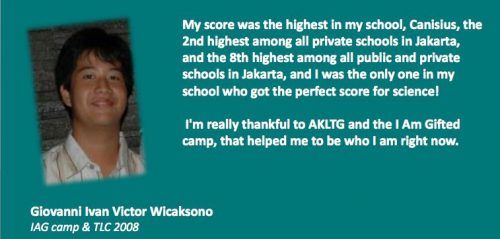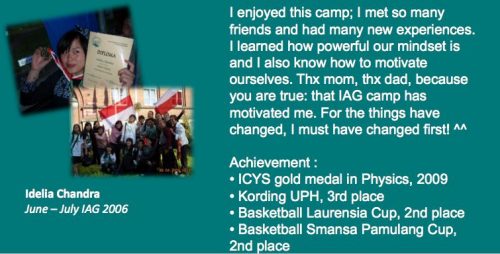 Also a big congratulations to Sharon and Sanzen who won the ASEAN scholarship and Melissa who won the Nanyang Girls High and Hwa Chong Scholarship. Well Done Guys!!!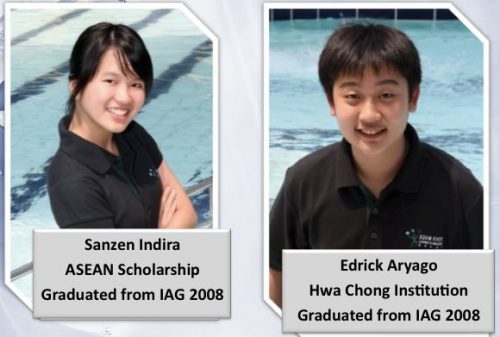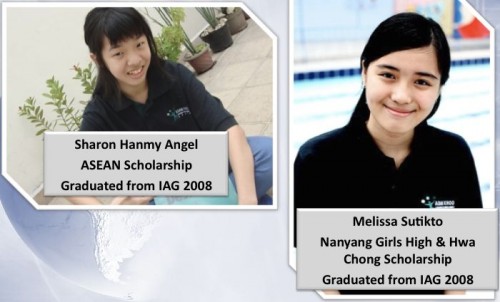 The Holidays Are Here Again
Well, the year-end holidays are here again! Not only will I be conducting the 'I Am Gifted!' Holiday Camp in Singapore, but I will also be conducting the Malaysia Holiday Camp in KL and Penang as well as Indonesia Holiday Camp in Jakarta, Medan and Surabaya to help more students realize their fullest potential.
Here are my tour details for the coming 'I Am Gifted!' Holiday Programme for Students ….
Singapore (Phone: +65 62740105)
22-26 November (age 9-13)
27-30 November (age 14-20)
Malaysia
Kuala Lumpur, 23-25 November
Kuala Lumpur 13-16 December
Penang 3-5 December
Indonesia
Jakarta, 19-23 December (age 9-13)
Jakarta, 18-22 December (age 14-20)
Jakarta, 26-30 December (Age 10 onwards)
Surabaya, 27-30 December (Age 10 onwards)