Imagine buying a stock that goes up by by 4-fold (400%), 5-fold (500%) and even 10-fold (1000%). These are called multi-bagger stocks. Stocks that go up 5-fold are known as 'five baggers' and a stock that goes up ten-fold is a 'ten bagger'. Like legendary investor Peter Lynch said, to be a millionaire, all you need is $10,000 and to invest it in two 'ten-bagger stocks'.
Multi-bagger stocks do not come from investing in established companies, but they exist in the realm of 'small companies'. When you buy an established company, with a wide economic moat, you can make consistent profits of 15%-25% like Warren Buffett and myself (er…hmm). However, to make multiple returns on your money, you have to know how to pick the right 'Small Capitalization Stocks' before they become medium, big and eventually, mega capitalization companies.
One person specializes in finding the stocks of small cap companies before they become famous brands, before they develop an economic moat and before stock analysts and investors even know they exist. His name is Jason Wee (BSc, CFA). While most people make their millions in business (myself included) and real estate and subsequently grow their net worth from stocks, Jason has become a multi-millionaire solely from investing in the stock market!
A Top Equity Research Head and The Trainer of Analysts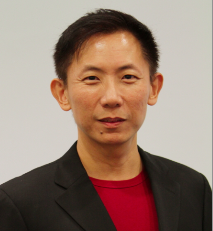 At age 40, after making millions for himself and his clients, Jason retired from his position as Head of Asian small caps Research at CLSA (Asia's leading investment brokerage and investment group). During his final years there, he created three model portfolios for clients which doubled their value within two years! In acknowledgement for his broad experience and ability to sift through thousands of stocks to unearth these rare gems, he was voted the best analyst providing research for Asia's smaller companies by investors across all three continents (Asia, Europe, US) in the prestigious Greenwich poll in 2005.
Here are some of the leading brands that he identified and bought way before any other analysts recommended it and way before anyone else got in… And more importantly, he knew went to get out before they started getting overvalued and moving down from their peaks.
Golden Agri- Resources
Jason recommended this stock to his clients and bought in at $0.18 in May 2006. The stock climbed to a high of $0.90+ (a 500% return/ 5-bagger)!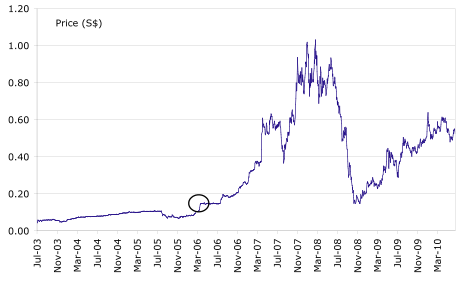 Datacraft Asia
Jason recommended Datacraft in 1998 to his clients and bought in at $1.80. The stock climbed to a $8 before he sold for a 400% return/ 4-bagger!
China Overseas Land
Jason recommended this stock to his clients and bought in at less than $ 1.50 in 2004. The stock climbed to a high of $17 (a 1000% return/ 10-bagger)!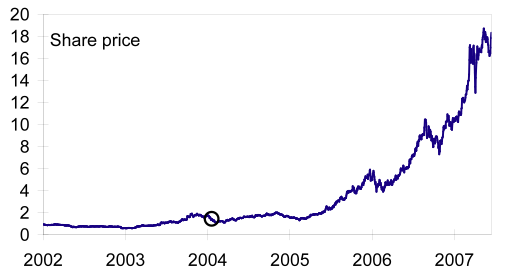 Other hugely profitable picks by Jason include Ezra, Olam and Raffles Education ( a 10 bagger.. )
An Opportunity to Learn How to Pick Stocks Like the Pros…
Would you like to learn how Jason identifies, researches and selects these multi-baggers? Would you want to know the ones that he has identified today? Up till now, he only trains other analysts and investment professionals at the CFA program (Chartered Financial Analyst) and gives short talks at the Singapore Stock Exchange, where he has written many of their investment guides.
I am really excited because I have managed to convince him to run a full fledged training program for non-professionals investors FOR THE VERY FIRST TIME in Singapore. Trust me, it was tough to get him to do this as money was not his motivator. I had to promise him something else….
Adam Khoo Learning Centre is really proud to bring the 'Asian Stock Investor' programme to you. It will be run from 23-26 September in Singapore. I will be making a guest appearance to cover the basics of investor psychology as well.
What You Will Learn…
These are just some of the things you will learn in the 'Asian Stock Investor'. You can get more details from our Brochure as well.
1) Advanced stock valuation techniques. Learn how to value all kinds of companies from banks to manufacturing and services companies using in-depth valuation models.
2) How to identify companies before they develop their economic moats and become market leaders
3) How to analyze the most profitable sectors and markets that will growth your portfolio in the next 10 years
4) How to beat professional stock analysts and professional investors at their own game and much more…..
Grab the Opportunity and Take Action
If you want to enhance your investing skills and become a great stock investor, then grab the opportunity and take action by registering (call 65-62740105) for the next preview on 17 August (tues), 7pm at AKLTG training centre, Singapore. If you are afraid all the seats will be snapped up by then, you can also sign up right away by calling my office or emailing daniel@akltg.com