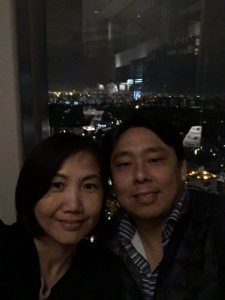 Yesterday night, I celebrated my 16th Wedding Anniversary with my sweeter and smarter half. We were dining at the top floor of Ion Orchard and right behind us, in the background, was the 'Four Seasons Hotel', where we wed in 2000 (what a beautiful coincidence).
Like all great relationships, our 22-year love affair (we first met when I was an army boy) was not just sunshine and rainbows. We have had our fair share of ups and downs, arguments, disappointments and driving each other nuts at times. Looking back, it was riding through the toughest of times that made our love stronger and more meaningful.
Let me share what I have learnt about making a marriage stronger over time…so far (of course, I am still learning). To have a successful marriage is no different from maintaining a successful career, business, health etc… YOU HAVE TO WORK AT IT. You have to use the right strategies. It does not happen by chance. Here are some of our strategies…
1) Always support your spouse in whatever they want to do (as long as it is legal, ethical and moral ;-))
When my wife wanted to become a vegetarian, I supported her beliefs fully (although I am a super carnivore) and in return, she cooks all the meat dishes for me and eats only veggie dishes herself.
2) Love your spouse the way THEY want to be loved
Don't love your partner the way you want to be loved. Love them the way THEY want to be loved. Learn her love language and make her feel loved at least 3 times a day!
3) Always make your spouse feel special
Always compliment, praise and encourage your partner. You must be their #1 cheerleader in life! Inspire them with your words and never ever criticize them.
4) Keep Acting Like Teenagers in Love
After 2 kids, 22 years and extra 25Kg, wrinkles and white hair between us, we still send each other mushy text messages daily, hold hands and get naughty whenever no one is looking.
5) Never ever go to bed angry
No matter how bad the fight or the argument, we always settle it before we go to bed at night (our record was stretching till 5am the next morning). Always go to bed in each other's arms. and most important rule…..once a fight is over, NEVER bring it up ever again. Be like Dory fish, forget easily all past wrongs. Keep on swimming 🙂
6) Make laugh and love daily
Finally… keep making each other laugh and climax daily. Life out there is stressful enough as it is. So, make each other feel great all the time.
Let me end with a quote that has always guided me (BTW, I quote ALL religions)
Corinthians 13:4-8
Love is patient, love is kind. It does not envy, it does not boast, it is not proud. It does not dishonor others, it is not self-seeking, it is not easily angered, it keeps no record of wrongs. Love does not delight in evil but rejoices with the truth. It always protects, always trusts, always hopes, always perseveres.