The June school holidays are coming soon and I will once again be running my Superkids (For ages 7-12) and 'I Am Gifted, So Are You!' (For Teens aged 13 and above) school holiday programme in Singapore, Jakarta, Medan and Kuala Lumpur.
My Kids and Teen programs are based on my very first book I wrote 10 YEARS AGO, entitled 'I Am Gifted, So Are You!' It chronicles my journey from a student who was kicked out of school at age 9 (Primary 3) and labeled a slow and hopeless learner by friends and teachers and how I learnt the accelerated learning and personal success strategies to become one of the top students in Singapore (I was later ranked among the top 1% of academic achievers in the National University of Singapore and a pioneer in the talent development program/ Gifted Program).
What really inspired me to write the book and to spend my last 16 years inspiring and teaching students to bring out the very best in themselves in that I believe that if I CAN CHANGE, then ANYBODY CAN CHANGE. I believe that there are many many students out there in the world who are just like where I was. Students who have given up hope in their studies and their future simply because they have failed too many times in the past and have been constantly labeled and reprimanded by well meaning teachers and parents. So much so that they have formed a MENTAL BLOCK and even HATRED towards studies and exams.
So, how do I help children and teens to transform their lives through my intensive Holiday Program Malaysia? Well, there are three things that I focus on..
1) LEARNING MASTERY
First thing I do is teach students the RIGHT WAY on how to learn. By teaching and demonstrating powerful learning skills like super memory techniques, speed reading,information gathering, whole brain note making, concentration techniques and thinking skills, teens will be amazed and gain so much confidence when they discover that they can make learning extremely easy and fun.
2) PERSONAL MASTERY
While scoring straight 'A's is important, I believe it is certainly no guarantee of success. For our children to become successful in school and in life, they must develop PERSONAL MASTERY skills such as learning to design their destiny through goal setting and career planning, developing unstoppable confidence and high self-esteem, learning to manage stress and motivate themselves, time and life management and the ability to overcome failure and setbacks
3) RELATIONSHIP AND COMMUNICATION MASTERY
The third ingredient of success in life that we must teach our kids at a young age are basic but very important values like RESPECT, GRATITUDE and RESPONSIBILITY. I believe that to achieve anything in life, we must learn how to work well with others, express ourselves confidently and to learn to manage relationships with friends and family
If you have friends or family members (kids or teens) who you know can truly benefit from the Superkids and I Am Gifted, So Are You June Holiday Program, do encourage them to call 62740105 (Singapore), (603)77250212 (Malaysia Holiday Camp) or (62)215723315 (Jakarta Indonesia Holiday Camp) and speak to our customer care officers or attend one of our FREE INTRODUCTORY WORKSHOPS this coming weekends!
In Singapore
Free Introductory Workshops:
Dates/ Timings:2 May (Fri 7pm), 3 May (Sat 2pm), 4 May (Sun 2pm),
9 May (Fri 7pm), 10 May (Sat 2pm), 11 May (Sun 2pm)
Venue: Adam Khoo Training Centre, Singapore
Life Transformational Workshops:
Superkids Camps (5 Days): 24-28 May, 2 June- 6 June, 11-15 June
I Am Gifted Camps (4 Days): 29 May-1 June, 7 June- 10 JUne
In Malaysia
Free Introductory Workshops:
Dates/ Timings:
3 May (Sat 3pm), 4 May (Sun 3pm)
10 May (Sat 3pm), 11 May (Sun 3pm)
Venue: Adam Khoo Training Centre, Petaling Jaya, Malaysia
Life Transformational Workshops:
Superkids Camps: 24-26 May (Penang), 31 May- 2 June (Petaling Jaya)
I Am Gifted Camps: 27 May-30 May (Seremban)
In Indonesia
Free Introductory Workshops:
Dates/ Timings:3 May (Sat, 2pm) in Jakarta
4 May (Sun 2pm) in Medan
Life Transformational Workshops:
Superkids Camps: 23-26 June (Jakarta)
I Am Gifted Camps: 26 June-30 June (Jakarta), 19-22 June (Medan), 1-4 July (Surabaya)
You can also listen to a recording of one of my LIVE INTRODUCTORY WORKSHOPS at this link.
I would like to share some of the hundreds of emails that some of my past students have sent me and how the program has been indeed life transforming for them.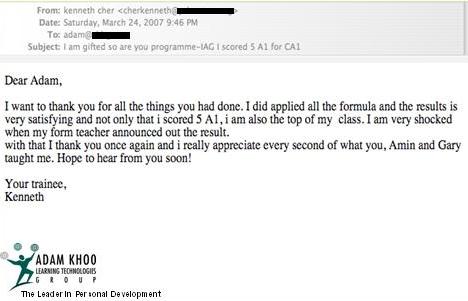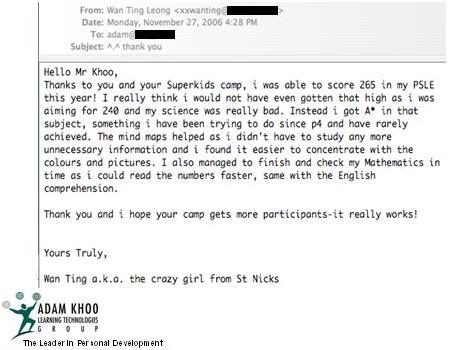 Live With Love and Passion
Adam Khoo